I'm lucky enough to be finishing this month with two concerts. On 22 March, the Curious Chamber Players will perform The Incredulity of St Thomas as part of Samtida Musik's Vårflod Festival in Stockholm. The rest of the programme features recent works by Swedish composers and the concert is followed by a recital given by Garth Knox.
Listings: Vårflod Festival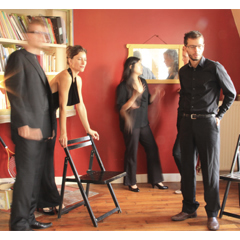 Two days later, soundinitiative will give their second performance of my most recent piece, All that is solid melts into air, at the What's Next Festival in Brussels. The concert will also include the second performance of Joanna Bailie's Artificial Environment Nos. 9a–d and Rebecca Saunders's Molly's Song #3 — shades of crimson, which they played with intensity and subtlety in February, so don't miss it!
Listings: Ars Musica | soundinitiative