Helmut Lachenmann in Stuttgart, 13.02.2009
I was visiting Stuttgart, hometown of composer Helmut Lachenmann, to hear a concert of his music presented in the Stadtkirche of the suburb Bad-Canstatt. It seemed like a good omen when, at the head of the menu in the traditional Schwäbische Stube (I suppose this the local equivalent of an American burger bar or an English tea shop) where we ate, I found a John Cage quotation:
I can't understand why people are frightened of new ideas.
I'm frightened of the old ones.
'Fantastic, even the dirndl-wearing waitresses are familiar with their avant-garde composers,' I thought, tucking into creamy spätzle and rich pork (nothing too new there then, Stockhausen would have been disappointed).
Stuttgart is also the birthplace of G. W. F. Hegel and Max Horkheimer, establishing its philosophical credentials, in a sense it is the home of dialectical thinking. To potential Marxist chagrin however, perhaps Stuttgart's most famous products are cars, especially those tending towards the luxurious (both Porsche and Mercedes originate here). This is also the heartland of Lutheranism and Labour movements – Lachenmann the latest in a long line of upright 'L's.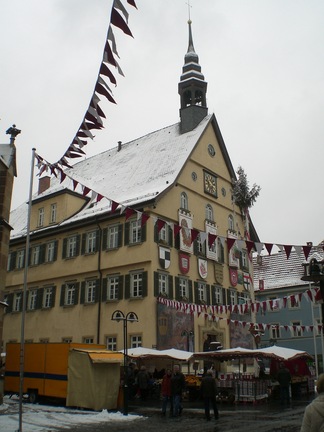 On a cold evening I found the church hosting the concert early and slipped inside out of the icy air. A few people had already gathered: a group of white-haired ladies and a couple of eager young fans. On stage sat Lachenmann deep in discussion with Ewald Liska, a composer, singer and radio producer just two years Lachenmann's junior, who would interview the composer in between pieces during the concert. By the advertised start time of 8 o'clock the church had filled, with an audience of all ages spilling onto the balconies above – an enthusiasm perhaps explained by the fact that this was, so to speak, a home crowd, but nonetheless an enthusiasm difficult to imagine on English shores for Harrison Birtwistle or Robin Holloway, for example. Nor is Stuttgart a cultural desert. That evening Kristjan Järvi was conducting the Radio-Sinfonieorchester Stuttgart in a programme of Bernstein, Rachmaninov and – as is the laudable wont of German orchestras – a premiere: a percussion concerto entitled Industrial by 43-year-old Moritz Eggert.
At 73, Lachenmann is an elder statesman of the avant-garde music scene. Since the death of Stockhausen, some see him as the de facto leader of new music in Germany, but he was never cut out for leadership. Lachenmann's music is nothing if not subversive and the wry glint in his eye as he speaks hints at a deep-rooted wish to upset the amassed applecarts of the Western classical tradition. However, this is never an aimless drive to destruction but a keenly focused and thoroughly analytic examination of convention and how it must change – how it can be rescued from the 'orgy of stupefaction' that is the everyday. All very conceptual, perhaps, but the music is beautiful and the transformations it subjects its listeners and performers to are undeniable, matched only by Lachenmann's technical brilliance in building beguiling and dramatic structures through pure processual transformations of sound material.
It is rare to see Lachenmann still perform at the piano as he used to around the world, but in Stuttgart he gave a performance of Ein Kinderspiel [Child's Play], seven short pieces for piano, which he premiered at the keyboard in Toronto in 1982. They may be his among his simplest works, written for his daughter Akiko, but as he pointed out afterwards, though childlike and often playful, they are often too tiring for children to perform, and certainly weren't intended as pedagogical exercises. They are thorough investigations into the possibilities of piano resonance (a realm he has explored further in his monumental Ausklang for piano and orchestra) and he compared the piece with Morton Feldman's The Viola in My Life. Ein Kinderspiel, he said, was 'the piano in my life, and at a particular time as well' – the piece belongs to a particular period of experimentation with sound possibilities. His performance was crystal clear – quite an achievement given the church acoustic – though he spoke later of the difficulties in making such dense pieces work in this acoustic. Ironically, only Glockenturm [Bell Tower] of the movements was really marred by the wet acoustic. The movement exists more or less entirely in the varying resonances that emerge from a chromatic cluster that remains constant throughout, but by the time the cluster chord echoed away into the eaves, the altered resonance had also flown its ivory nest.
The core of the evening's programme was Lachenmann's Second String Quartet Reigen seliger Geister performed by the Lotus Quartet on a cross-shaped platform (no symbolism intended, I don't think) in the centre aisle of the church, with the performers at the cross' tips facing each other. Lachenmann spoke of the quartet as the 'gradual transformation from flautato playing to pizzicato', but a purely technical analysis cannot do justice to the spiritual nature of this 'attempt at composition'. The opening passages return repeatedly to the scordatura open strings of the instruments, which Lachenmann conceives more and more as a 'super-instrument' over the course of the work. This return seems – despite the unconventional tuning – to hint at more tuneful climes, perhaps purely through the open string timbre, which for most of the time is shrouded by breathy, overtone-laden bow strokes. This widens into an electric glittering of harmonic glissandi that must be one of the single most beautiful passages in music of the last 50 years. What follows might be seen as the real drama, where dialectical processes are triggered and the transformation from bow to hand takes place. One-by-one the players de-tune their strings and lower their instruments to their knees to use what looked like old credit cards to strum the strings – a passage in which Lachenmann treats the quartet as a 'super-guitar'. The drama here is palpable as the music's heartbeat slows almost to a standstill and occasional cracks and crunches break a tense silence. The creaking of pews and the distant tolling of the church bells (which in fact seemed to serve only to heighten the atmosphere) were made palpable by the struggle to anticipate the next sound. Here, a story Lachenmann had told earlier about recording John Cage's 4'33" with a class at the Pädagogische Hochschule in Ludwigsburg seemed to resonate. He had asked students to perform Cage's piece and he recorded this performance. This solicited two reactions: first some would laugh at the silence, but then others began to listen. Once recorded, he played the class the tape of the piece several times. Soon, they became aware of the sounds present in the silence and the logic that connected them became clear. The Ludwigsburg train would crescendo in and then out, there was the hum of traffic, all sounds that we suppress from our conscious perception, but once recorded and heard repeatedly began to be realised as music.
Fortunately, Reigen seliger Geister need not be listened to repeatedly to work its magic. After apparently shattering at the listener's feet, it gradually reassembles and glides upwards with a gracious creaking before vanishing into a high breathing of violin harmonics in an undeniably affecting conclusion. Sofia Gubaidulina has written about the spiritual implications of upwards movement in music and has categorized it as technique in her own music for symbolising the movement towards heaven. She has even referred to Lachenmann's music when trying to explain her own conception of spirituality in music. Lachenmann's religious beliefs are something he has not touched on in his extensive writings, though his early Marxist tendencies and skilful avoidance of a question about church music from concert organiser Jörg Hannes Hahn suggest they are certainly not straightforward, but the subject of the Second String Quartet does incorporate spiritual elements – the 'seliger Geister' of the title – and in the church context it was hard to avoid a feeling that the work somehow revealed a transcendental journey.
'Some music is speech,' Lachenmann later said, 'Bach, Schoenberg or Boulez for example,' but he would rather create music where what was important was 'observation', where there was 'no text, but a situation, almost a meteorological situation'. He spoke of the string quartet as a 'walk, where the landscape gradually changes' as we move through it and then suddenly 'the moment comes where one stands still, where one really hears the landscape for the first time'. This moment in Reigen seliger Geister he pinpoints as the gentle scratch-tone bowing that leads upwards and out of the piece (bb. 366 – 384). Lachenmann defines this as a moment that occurs in most of his works where the musical material falls into a natural quasi-ostinato. He believes this moment is reached through a dialectical, almost organic process where the material works through its implications towards a more or less inevitable resting point (like an ordered thermodynamic system finding its way back to its natural disorder). Despite this conception, the process is never obvious nor does the music betray its eventual destination; it is only on arrival that we perceive the origins of our journey as leading inevitably to this point. Perhaps this is a bad case of post hoc, ergo propter hoc in the mind of the listener, but the effect is undeniable. Lachenmann maintains that without the preceding music these states would be nonsensical, like a tree, devoid of ground to grow from, floating in the air. Despite all its convention-flipping sounds, the music does possess an almost Beethovenian logic. It is the musical-syntactical necessity of each and every sound that binds the work together and it is this that makes us hear music, not a scattering of strange effects for the ear's delectation. In a fashion similar to that of musique concrète, sounds are liberated in an egalitarian system where no one sonic attribute is given automatic preference (as pitch is in tonal systems); sounds are treated as indivisible entities, whose components are distinguishable in analysis, but to the ear function atomically. The music lies in the alchemy, turning lead to gold.
The final two pieces of the evening's programme were Consolation I and Consolation II, two small-scale choral works from 1967 and 1968, performed with panache by singers from the Staatliche Hochschule für Musik und Darstellende Kunst Stuttgart. Contemporary with some of Luciano Berio's experiments in phonetics, both these works demonstrate an interest in disassembling their respective texts through phonetic analysis that aims to reveal an inherent logic of sound construction. Consolation II is particularly effective in its setting of an 8th Century prayer, the Wessobrunner Gebet:
Mir gestand der Sterblichen Staunen als Höchstes
Das Erde nicht war, noch oben Himmel
Noch Baum, noch irgend ein Berg nicht war
Noch die Sonne, nicht Licht war
Noch der Mond nicht leuchtete
Noch das gewaltige Meer
Da noch nirgends nichts war
An Enden und Wenden
Da war der eine allmächtige Gott
This meditation on finding God in the nothingness before time is dissolved into a shuddering landscape of letters, hissing with a hollow wind, shivering with rolled 'R's, stuttering away into the nothingness where God can perhaps be found, ending on the 't' of 'Gott', not sung but struck: two fingers coming together in a quiet clap.
Quiet, assured endings. No thunderclaps (though thunderous applause). Bombast negated. Convention challenged. Where to next? 'Composition itself,' reads Lachenmann's programme note, 'as a form of human seeking, is flight […] a flight straight into the lion's den. And therein lies the only way out.'